The Ocean Twilight Zone Observation Network offers an exciting new way to collect data about the zone constantly throughout the year—revealing subtle seasonal changes that scientists might otherwise miss. The network is made up of several different technologies that all work together: moored buoys equipped with acoustic survey systems, a swarm of optical and geochemical sensors, and new fish-tracking tags that will continuously record the position of major predators such as sharks and tuna. All of these components will communicate remotely with the network's buoys, which will then send their data back to shore.
The array will continuously detect and monitor individual fish and larger zooplankton in the study area, delivering much more accurate biomass estimates than currently exist. Its continuous acoustic monitoring will also provide observations of daily animal migrations to and from the surface, along with information about daily, seasonal, and inter-annual variations in twilight zone biomass and biodiversity. Sediment traps installed at 1000 meters below the surface will measure the rate of marine snow fall, contributing to our understanding of oceanic carbon flux as it relates to changing biomass above.
The network will improve estimates of the density and distribution of fish and invertebrates in the twilight zone, reveal new insights about these organisms' interactions and daily migrations to and from the surface, and help to fuel new strategies for conservation and policy making. It will also help researchers better understand how the twilight zone affects carbon cycling and global climate.
Principal collaborators from WHOI are Simon Thorrold, Andone Lavery, and Ken Buesseler, with additional input from Dana Yoerger (WHOI) and Melissa Omond (URI).
Funding for the network was provided by the Happel Foundation and WHOI's OTZ Project.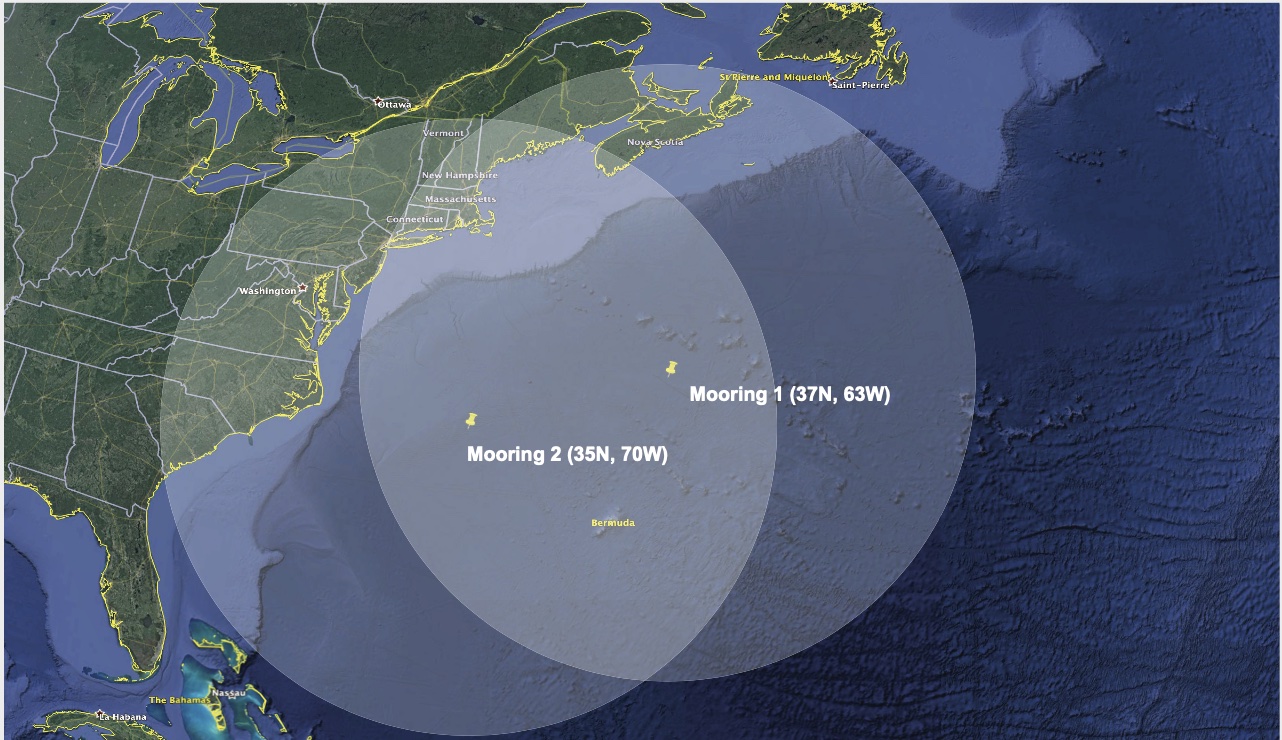 Location
Northwest Atlantic Ocean
Range Covered
Roughly 250,000 square kilometers (155,300 square miles)
Number of Moorings
Three: two acoustic sound sources, one bioacoustics mooring
Instrumentation
Moored acoustic sound sources, ROAM fish tags; sediment trap, Multi-frequency bioacoustic instruments, MINION floats. Future moorings will include duplicate acoustic transponders, an Underwater Vision Profiler (UVP), cameras to photograph fish, and an Acoustic Doppler Current Profiler (ADCP).
Connectivity
Iridium satellite links installed on MINON floats. ROAM tag Iridium links are also planned.