Mission Overview
For the first time since the start of the global pandemic, the OTZ team is returning to the field—but this time, it'll be on solid land. Since Covid-19 precautions have led to several cruise cancellations this year, the team is basing its operations at Station B, a new rapid development center for ocean technology that recently opened in Bermuda.
This shore-based work represents a new and innovative approach for twilight zone research in the Covid-19 era. Instead of working from a large vessel like the R/V Neil Armstrong, the OTZ team will take a number of day trips from Bermuda's coast. Just offshore, the ocean floor drops away dramatically, making it possible to reach deep water in a matter of hours. If successful, this arrangement may provide a rapid and flexible way to test oceanographic instruments in the field, letting the team fine-tune their tools to gather data more effectively on traditional cruises.
During day trips aboard the R/V Catapult, the team will extensively test Mesobot and new highly-sensitive radiometers. They'll also deploy the Twilight Zone Explorer (TZEx) an instrument that can record the movement of carbon-rich debris called "marine snow" as it sinks through the twilight zone.
| | |
| --- | --- |
| Dates | February 20 - March 20, 2021 |
| Location | Bermuda |
| Ship | Catapult |
| Chief Scientist | Dana Yoerger |
| Science Objectives | Improve Mesobot's systems, including tracking and integration with new sensors, to gather more data about the ocean twilight zone on future cruises. Test Twilight Zone Explorer in open water. |
| Technology | Mesobot Radiometer TZEx |
| Partners | Station B |
R/V Catapult as seen from its dinghy. (Photo: Jennifer Berglund) Back at it the following day, the deep water was…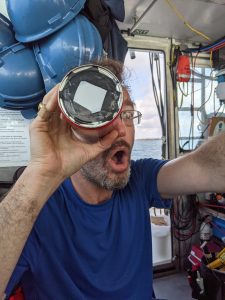 After yesterday's pre-dawn test of Mesobot's radiometer, Bermuda's seas were just rough enough to prevent a deep water deployment the…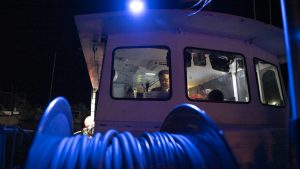 Captain David Ullman preps Catapult for a 2:30am departure. (Photo: Jennifer Berglund) Today, the team set out well before sunrise,…