Welcome to the Fish Tank October 25, 2023
As I make my way down the hallway on the main deck of E/V Nautilus, my mind is set on getting to my bunk. I've been awake since 4am and it's now almost 10pm. But I notice Eric Hayden walking out of the Data Lab, smiling to himself.He spots me.
"Marley! Have you seen it yet??"
"Seen what?" I ask, ignoring my fatigue. I've sailed with Hayden on three different expeditions, and I've never seen him this excited.
Hayden immediately turns around and beckons me to follow him back into the Data Lab, where the Mesobot team has set up shop. When I glance over at Dana Yoerger, I'm not surprised to see he is glued to the laptop in front of him. Like most engineers, he and his team are methodical. They spend hours and hours diligently reviewing data from Mesobot's latest mission and planning out the next mission. But right now, they are celebrating. Hayden turns his laptop towards me, and says, "check this out." Yoerger swivels around in his chair to watch over my shoulder. He is beaming.
The source of their elation swims across Hayden's laptop screen – thick salp chains glide through the blackness while squid zoom in and out of the frame. Marine snow, tiny krill, and phytoplankton pepper the scene. The swirl of bright, twinkling organisms looks like something out of a science fiction movie – it feels like we're viewing the far reaches of outer space.
But this is inner space: specifically, the Ocean Twilight Zone. We are watching footage that Mesobot just captured 150 meters (about 492 feet) below us.
Hayden's gaze is locked on the screen. "It's like we're sitting inside a fish tank," he says. "Look at that ink trail from the squid!"
We watch, transfixed, as the animals continue to dart around Mesobot. We marvel at the crisp quality of the footage and the sheer number of organisms. Yoerger points out that the small fish we're seeing are likely some of the most numerous vertebrates on the planet – but humans very rarely get the opportunity to observe them firsthand.
"We need to double-check with our biologist colleagues, but we believe these are some of most abundant fish in the ocean," he says. "We catch them in nets, but we rarely see them in their natural environment. Most technologies [used to observe them] are too intrusive – the bigger platforms scare them away."
But the fish don't seem to mind Mesobot. The small, quiet, and deliberately slow-moving robot produces a minimal amount of disturbance in their habitat.
"It's the combination of the cameras and the lights and getting to the right place at the right time," Yoerger says. "We have layers of technology working together here."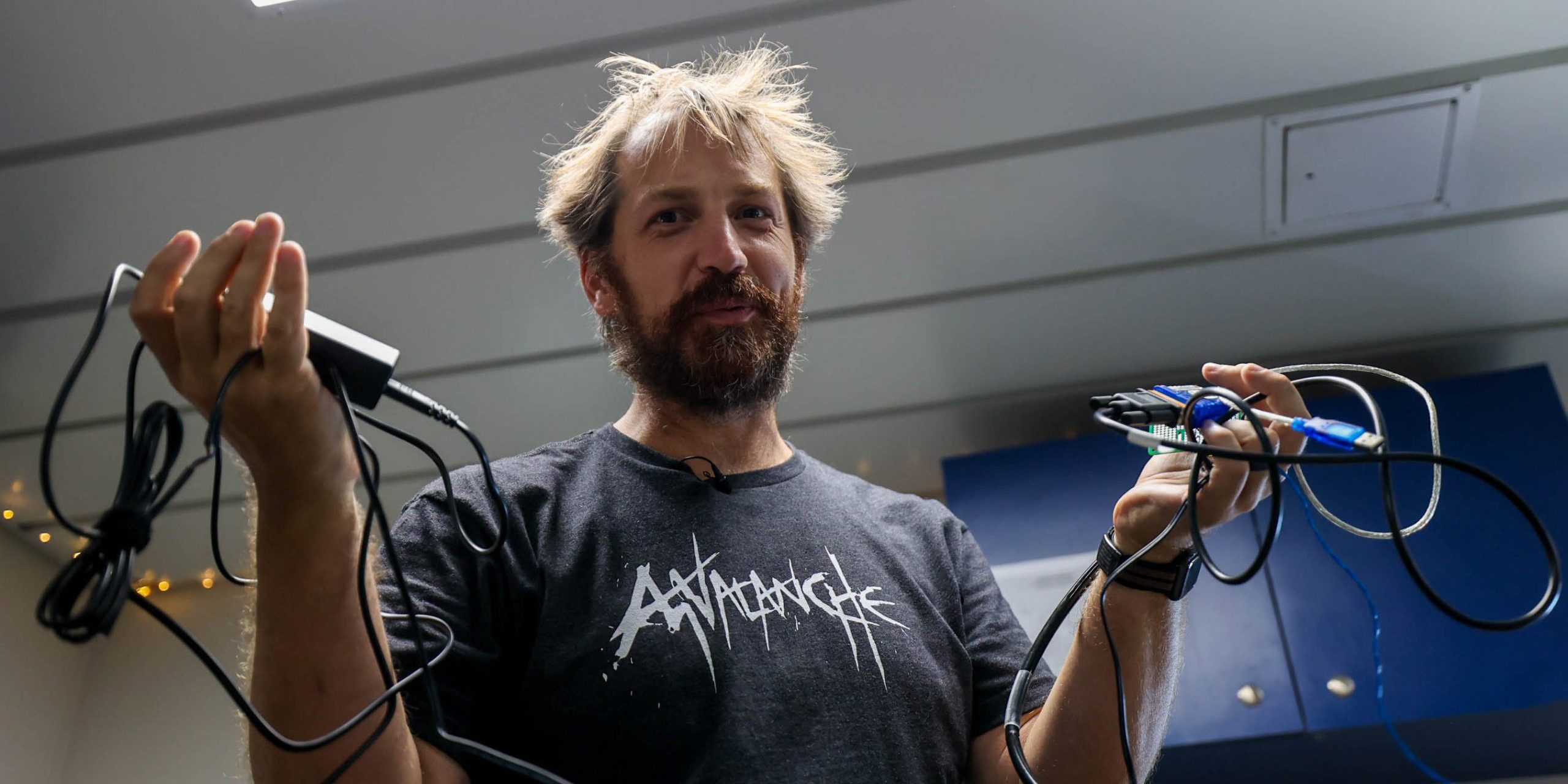 These technological layers started coming together during NOAA's Ocean Exploration Cooperative Institute Tech Challenge aboard the E/V Nautilus in 2022, when Mesobot engineers teamed up with iXblue and engineers at the University of New Hampshire who operate the uncrewed surface vehicle, DriX.
DriX is a sophisticated platform that includes a calibrated echosounder, which can provide a bird's eye view for Mesobot and increase its situational awareness. At the beginning of the expedition last year, the first order of business was getting the two robots to talk to each other, and then coordinating their movements in the water.
As the communication and movements became more streamlined, so too did the potential to expand Mesobot's capabilities. The team quickly realized that the echosounder aboard DriX could clearly see Mesobot under the water, data that would help them verify that Mesobot was on target.
In earlier expeditions, getting that information involved dangling an echosounder over the side of the ship. "It's much better that we have one installed on DriX now," explains roboticist Jordan Stanway, who helps Mesobot's team with software and systems engineering.
During the 2022 expedition, the team had to use that portable echosounder to determine where animal migrations were occuring, plan dive times at those locations around sunrise and sunset, and then coordinate those plans with the ship's crew. On this expedition, however, Mesobot and Drix are working together incredibly well, making the dives are more efficient and effective. The team can now program Mesobot with just a brief template mission (ie, "go down, hover at 100 meters and wait"), and then DriX will find the vehicle and give it more directions.
"It's an easier process now, with a better final product," Hayden says. "It's simpler for us to set up the missions, and easier for us to capture events on video or sample exactly where we want."
This approach both saves time and avoids the potential headaches associated with writing out a detailed mission script ahead of the dive, says Stanway. "We no longer have to try to account for changing conditions during each dive. Since it's simpler, we have less likelihood of introducing an error in a complicated mission script."
Another new approach has worked exceptionally well during this expedition, he adds. "In the past, our idea was to drive Mesobot forward, cover more ocean, and see more stuff," Hayden says. "But we've had minimal results from that."
Instead, Stanway suggested the team should tell Mesobot to simply sit and wait.
"That's what I do when I'm diving and I want to see and hear stuff," he says. "If you want to experience the ocean, just go down and hang out in one place. Listen. Be a part of the environment."
To do that, the Mesobot team sends the robot down to a specific depth – say 150 meters – and instructs it to hover in that location for the next 20 minutes. At first, the scene is mostly black, and the biology appears sparse. But very quickly, more and more animals enter the frame from different directions.
"In some places, after we had been there for 20 minutes, it was like peering through a blizzard of krill," Yoerger says. "But in other places, it was all salps," Hayden adds.
While the team is excited to have captured so much compelling footage, the challenge now is to process and share the video effectively. Going through all the video files is an immense amount of work on top of managing dive plans and operating the vehicle. Hours after I first walked into the Data Lab, Hayden is still staring at his computer screen, trying to log all the different animals he spots.
"I can't even keep up," he says. "There are just too many!"
I glance at the phytoplankton shimmering on his screen. "It's a good problem to have."
He nods in agreement. "It's an excellent problem to have."
—Marley Parker is a freelance sceince writer and field correspondent for WHOI.