Underwater "Tides" Could Affect Animals in the Twilight Zone January 6, 2023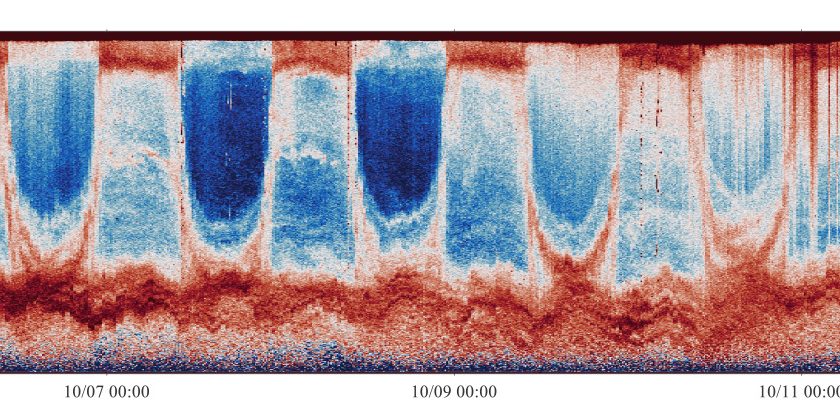 New work from OTZ PhD student Zhaozhong Zhuang suggests that internal "waves", or fluctuations of movement in layers of deep water, can dramatically change the movements of twilight zone animals. Zhuang arrived at his preliminary findings by analyzing more than seven months of continuous acoustic data from the Twilight Zone Observation Network, a new series of instrumented moorings that cover a vast swath of the northwest Atlantic. Building the network has been an ongoing project for the OTZ team over the past two years, and was made possible in part by a grant from German philanthropist Dr. Otto Happel.
The findings: Every night, countless animals migrate from the twilight zone to the surface to feed and swim back down again at dawn. Zhaozhong found that over the course of a day, internal waves can move those migrating animals horizontally for several miles—meaning they may not descend to the same place they left.
Why this matters: The impact that these internal waves have on the twilight zone isn't yet clear—but they could mix different biological populations together, and could influence the active carbon transfer by those animals' from the surface into the deep ocean.
Next steps: Zhaozhong and his advisor, Andone Lavery, are creating a computer model that can recreate internal waves. This will help them predict what happens as different twilight zone species collide—and estimate the way the waves affect carbon transport in the zone.