Field Notes: Bermuda Or Bust February 19, 2021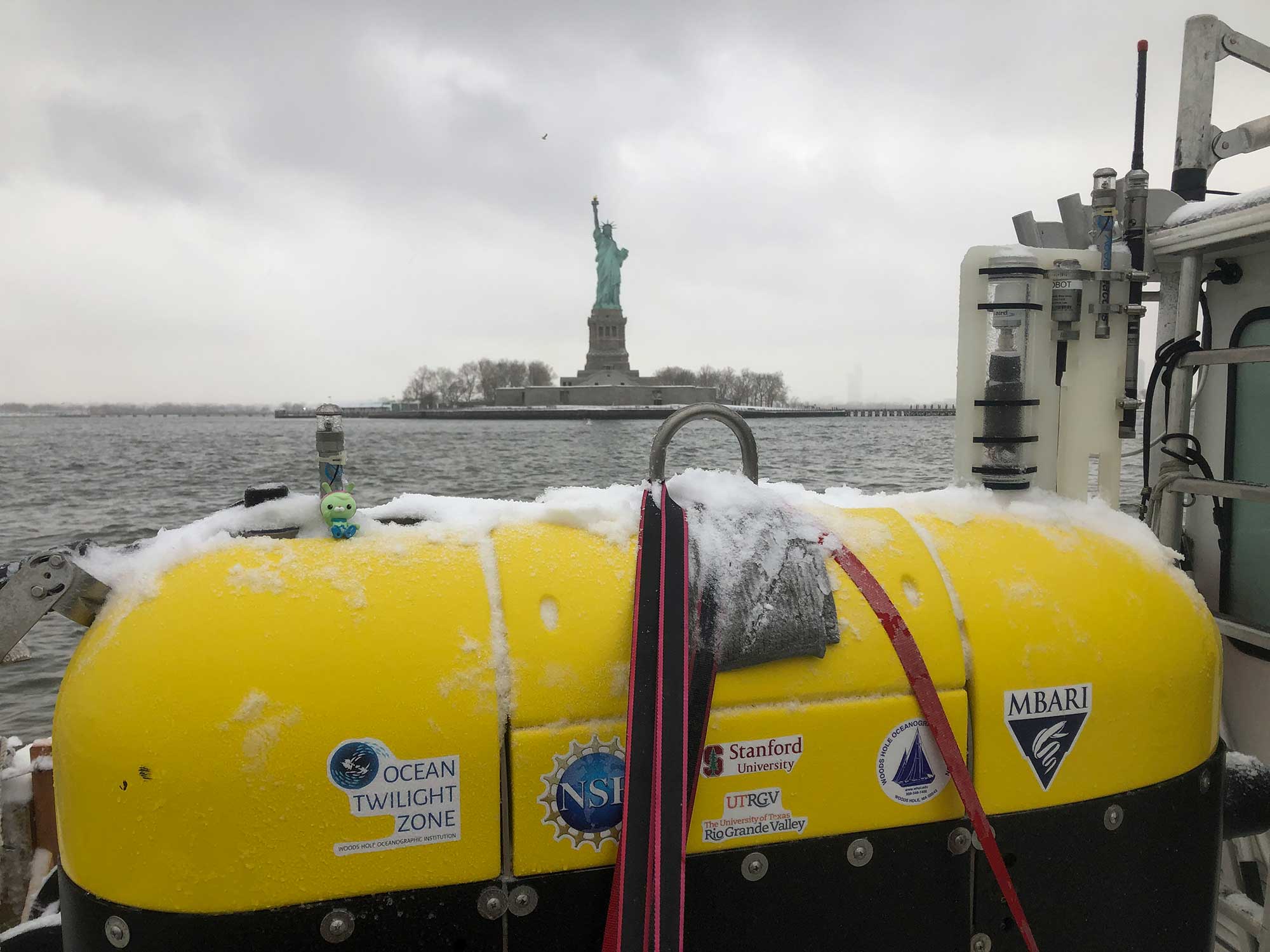 So long, New England winter—Mesobot is finally heading on its long-awaited trip to balmy Bermuda, where OTZ team members will conduct a month of shore-based operations to test new robotic vehicles and sensors.
The autonomous vehicle left Woods Hole this past Thursday aboard the R/V Catapult, a 35-foot research vessel that will serve a test platform during the trip. Once the ship reaches its next stop in Elizabeth, New Jersey, both Catapult and Mesobot will be loaded onto a larger cargo vessel headed for the island nation.
Shore-based work represents a new and innovative approach for twilight zone research in the Covid-19 era. Because of pandemic-related precautions, cruise time is scarce and bunks are in short supply—so Instead of spending weeks aboard a large vessel like the R/V Neil Armstrong, the OTZ team will take a number of day trips from Bermuda's coast. Just offshore, the ocean floor drops away dramatically, making it possible to reach deep water in a matter of hours.
When it comes to sea trials like these, shore-based operations may actually be more useful than traditional ship time, says Mesobot designer and lead engineer Dana Yoerger.
"On a cruise, you usually only have a few days to dive, so you have to test a lot of new systems at once and hope they work. It's kind of a Hail Mary every time you put something in the water. But in Bermuda, we can go out for day, do our testing, and then come home at night to tweak the robotic vehicles or install upgrades," he says.
On this expedition, the team will be based at Station B, a new rapid development center for ocean technology that recently opened in Bermuda. Once there, they'll conduct extensive deep water tests using Mesobot and a set of new highly-sensitive radiometers. They'll also deploy the Twilight Zone Explorer (TZEx) an instrument that can record the movement of carbon-rich debris called "marine snow" as it sinks through the twilight zone.
Be sure to check back on our website for more updates, photos, and field dispatches as the mission continues!